Need for Speed Payback Game Details and Guide
Need for Speed Payback is one of the most popular racing games released by Electronic Arts (EA) for prominent game handles such as PlayStation 4, Xbox One, and Microsoft Windows. This is the 23rd version of the best NFS game franchise which was published worldwide in 2017. Compared with other NFS installments, this version boasts its top-notch gameplay and exciting game modes for its racing aficionados.
Aside from these new features, Need for Speed Payback for PS4 also focuses on three playable in-game characters who have varying skills sets to complete different game objectives and storylines. Unlike its predecessor, Payback also introduced its single-player offline mode for a more extensive gaming experience to all "action drivers" out there.
Here are more game features to watch out for in this new Need for Speed installment:
Intense Storyline
Some review sites described Payback's storyline similar to Drive: Multiplayer Mayhem Slot - with revenge or payback as its main theme. Players get control "the crew" who were betrayed in a mission and forced to redeem themselves back in the Fortune Valley region. To do this, they need to destroy "The House," an organization which manages illegal activities involving cops, criminals, and casinos in Silver Rock.
Just like any other NFS game, players can expect a lot of racing in Payback which will test their prowess in driving and stunts. There are also special heist missions which will surely hype up their virtual driving experience.
Meet "The Crew"
Unlike the previous NFS versions, Payback is now featuring not just one, but three main characters in its storyline. Players will be able to control and race with Mac, Jess, and Tyler - also known as "the crew." As mentioned, these characters have their own unique racing abilities and skills which players will discover as they play the video game.
Discover New Roads and Terrains
Payback also features a large and more detailed map perfect for intense racing and driving missions. This game provides its players with more areas to explore which may require exceptional driving skills from them. There'll be off-road driving across canyons, deserts, and even mountains which is a great experience for a racing video game.
Need for Speed Payback for PS4 also introduced the 24-hour day and night feature which includes story segments in both day and night settings.
Exciting Car Collection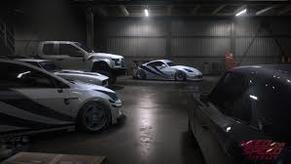 Players can get exclusive access to all 74 cars from prominent manufacturers like Audi, Jaguar, Mercury, Plymouth, Buick, Aston Martin, Land Rover, and all others except for Ferrari and Toyota. Moreover, the recently released BMW M5 virtually debuted in Payback which gives its players a first taste of this exceptional vehicle.
They can simply choose from five classes of Race, Off-Road, Runner, Drag, and Drift of their preferred car type.
They also get to modify and customize these cars based on their own preference which gives them a personal touch on these collections.
Learn New Driving Skills
This game also trains its players on mastering certain driving skills through several in-game missions and objectives. For example, Need for Speed Payback drifting missions test their car drifting skill to complete its objectives. It is important for players to understand the mechanics of drifting and how can they earn extra multipliers by effectively manoeuvring their vehicles.
There are various tips and strategies which can assist them on racking up points. These include successful chain drifts, efficient NOS usage, and proper driving skills.
Action-Packed Police Heist Missions
As previously mentioned, Payback will also debut its thrilling heist missions which will feature police chases and pursuits. These special missions will surely excite "the crew" as these will reward them with more mission prizes and experiences.
Exclusive Pre-Order Bonuses
Early pre-orders of the game gives its players an exclusive Need for Speed Payback car pack which is consists of five special vehicles, fully tuned and customized for its recipient. This Platinum pack includes collections like Volkswagen Golf GTI Clubsport, Ford F-150 SVT Raptor, Chevrolet Camaro SS, Dodge Charger, and Nissan 350Z.
Players may also avail of the Deluxe Edition pack which gives them exclusive number plates, additional story mission packs, NOS colour sets, and leaderboard icon.
Need for Speed game download is now available in all participating gaming consoles. Players just need to make sure that they're getting the updated version to ensure their smooth Payback gaming.