The Death Rally Combat Video Game - It's Survival Of The Fittest!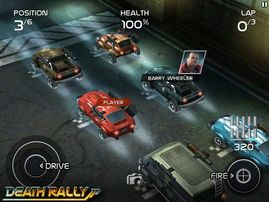 Distributed by GT Interactive Software and developed by Remedy, Death Rally is a combat racing video game featured on our website and was originally released for MS-DOS back in 1996.
Similarly to Split Second: Velocity, the Death Rally game gets underway with the player and a feeble type car based on the early Volkswagen Beetle, called Vagabond. The player has to compete in potentially fatal races where his competitors are armed, though there is an option to play the game without guns if the player wants.
The player's mission is to destroy other opponent cars as the game develops. He collects cash bonuses along the way as other cars are eliminated and can collect prize money as well, if he finishes in a winning place.
The key objective of the game is to defeat and eliminate the "Adversary" who is considered to be the undisputed Death Rally king, in a head-on, one-on-one race.
How The Game Plays Out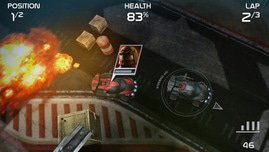 Each of the cars are equipped with various upgrades that increase the vehicle's defensive capabilities, its speed (engine) and its handling (tyres). The car come with a default chain gun which cannot be altered in any way, although it's possible to acquire short-term car upgrades, which always come at a higher price. Such upgrades include the likes of landmines, rocket fuel and bumper spikes.
Before each race gets fully underway, the player has the chance to ask for a loan and he can bribe a mechanic to interfere with his highest ranked competitors, excepting the Adversary's car. This causes random damage which can be anywhere from 25% - 49% impairment.
There's a total of 19 tracks and there's different tracks for different levels. No points or bonuses are awarded if the player comes last, if he finishes one complete lap behind the winner, or if he's destroyed along the way. In Death Rally the goal is to win and destroy his competitors, whilst collecting money as the races progress.
---