Basic F1 2017 Gameplay and Guides for Gamers
Formula 1 (F1) Racing fans will surely get excited in this latest video game instalment from Codemasters available on different gaming consoles like Microsoft Windows, PlayStation 4, and Xbox One. F1 2017 is the latest and ninth version of the popular racing video game franchise, Formula One. This game was released in 2017 which features ten competing teams, twenty unique circuits, and top race track drivers in the 2017 Formula One season. Players will also get thrilled with the exceptional in-game commentary of renowned F1 mainstays, Anthony Davidson and David Croft.
Some credible motorsport governing bodies are also considering in including F1 2017 video game in prominent eSports tournaments worldwide. They believe that the game's topnotch features and highlights will fit in the competing atmosphere of these eSports events. Here are some of these exceptional features which land them a spot in some of the top F1 2017 game review sites like v8arcade.com.
Advanced F1 2017 Career Mode
F1 2017 career mode boasts its upgraded mode features like improved gaming cinematics and graphics, as well as practice programs which include the vehicle's race pace and fuel management. Its developers also made sure that players get to manage their characters personally and in detail.
Compared with the earlier versions, F1 2017 also introduced new playable characters in its career mode. They can also choose from a wide array of helmet designs - which include customized versions from the F1 community, and incomparable character avatars. Players can also choose their preferred team to start their careers.
They also get to enjoy 115 available upgrades in the career mode wherein they can manage their car engines and gearboxes.
Classic and Vintage Cars
Another popular feature of this F1 franchise since then is its collection of classic and vintage cars will then be playable as the game progresses. Classic cars is a returning game mode since the 2013 instalment which features 11 vintage racing cars in the game's standard race mode. These include classic car collections like the 1991 McLaren MP4/6, 1992 Williams FW14B, 1995 Ferrari 412 T2, 1996 Williams FW18, 1998 McLaren MP4-13, 2002 Ferrari F2002, 2004 Ferrari F2004, 2006 Renault R26, 2007 Ferrari F2007, 2008 McLaren MP4-23, and the 2010 Red Bull Racing RB6.
They can also get the exclusive 1988 McLaren MP4/4 when they pre-order and purchased the "Day One" game copies.
New Racing Modes and Events
Players can also feel ecstatic on the new Championships game mode of F1 2017. This race mode will bring gamers into different race events around unique race tracks with different racing rules. This game mode includes the Classic Street Series wherein players drive iconic vehicles around six, unconventional race tracks. This new racing game mode can also host both the classic and modern cars available in the vehicle select screen.
They can also participate in invitational racing events scheduled within the regular F1 season. These include exclusive events like pursuit, time attack, overtake, and checkpoint challenges. Players may ay also consider competing in single and multi-class races.
Shortened Race Tracks
Aside from the initial twenty tracks to choose from, F1 2017 also features four improved and shortened race tracks for its players. This is considered a first in the franchise which includes short circuits in Bahrain, Japan, Britain, and the USA. They can also enjoy night racing in Monaco which is new in this series.
Improved Multiplayer Game Mode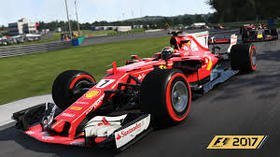 On the other hand, the game's multiplayer race mode all 20 race tracks with both the classic and modern car collections playable in the F1 2017 PC, PS4, and Xbox One platforms. They can also make use of the two spectator slots during multiplayer matchmaking. This makes online multiplayer races less unsatisfying and frustrating.
Now that the game features are already detailed in this F1 2017 game review, players can now learn more tips and strategies on how to excel in this action-packed racing video game. Here are some racing guides which can land them the best podium finish in the F1 2017 season.
Participate more in long careers
Beginners, as well as regular players who are looking to improve their racing skills, should hone their driving abilities in the career mode. As with modnation-racers video game, it is advisable to start competing with lower-ranking teams to familiarize themselves with F1 driving. Experienced gamers may go against high ranked teams which have harder racing objectives, but more rewarding prizes.
They should also value the R&D to unlock additional vehicle perks and upgrades for more winning odds.
Stick with the Ferrari
Novice drivers are also advised to make use of Ferrari cars because of its easy driving mechanics. Ferrari vehicles boast its reliable handle for smoother turns and manoeuvring on race tracks which are full of slopes and curves. It is also best for unequal circuits which are sometimes affected by the weather.
Make use of the Track Acclimatization Program
Players can also make use of the exclusive Track Acclimatization Practice Program which is available in F1 2017 career mode. This assist drivers around the race track wherein they can activate and download ghosts which help them identify the best driving route. These can also use the driving assist mode which aid them on their races.
Practice, practice, and practice
No one can instantly win race events and tournaments. It requires long drives and practices to get on track and win races.
Unfortunately, F1 2017 VR mode is not yet available in the market. But its developers have the interest of developing the game for the said platform to cater a wider gaming audience.