Full Auto 2: Battlelines - The Battle To Protect Merridian City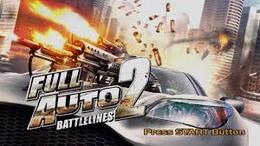 Developed by Deep Fried Entertainment and published by Sega, Full Auto 2: Battlelines was the 2nd Full Auto Vehicular combat game promoted on V8 Arcade and was first released for the Playstation 3 platform back on December 7, 2006.
In Full Auto 2: Battlelines they feature the very same configuration for the controller as was used for the Xbox 360 version. Front and rear weapon upgrades no longer get to be a feature of the game. Instead when playing online only, Base Assault is introduced instead, where one of the teams has to defend the base whilst others attack and annihilate their rivals, not to mention their base as well.
When playing the game in single player mode, players must reach the track's end within a certain amount of time or alternatively they must destroy a certain amount of vehicles or objects, if they want to win.
The career mode is similar to that in Death Race and is where primary objectives have to be completed so as to continue or pass the level that normally consists of completing a race first, whilst guarding an ally. Sometimes this target is a boss battle of which there's a few in the game.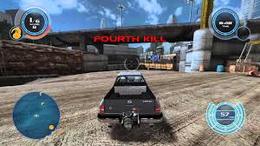 At each level, players can also complete additional objectives but the primary objectives have to be completed first for them to earn the secondary objectives completed. Once the primary objectives are overcome, one may be rewarded with a weapon or with a car. If the set amount of secondary objectives are then completed, the player may obtain a weapon, car or even various themed car skins.
In Full Auto 2: Battlelines, the career mode plot involves a sentient SAGE who has the responsibility of leading Meridian City through times of peril. The player has to compete against the Ascendants who terrorize Meridian city through a series of vehicular-combat tournaments. As the game evolves, the player defeats rivals across Asia, the Americas and Europe and after his defeat he can either have Sage continue on in its original role or have it permanently disabled, thus finally enabling humanity its freedom and dependence upon her and bringing about an entirely different world. You may also want to check out Split Second: Velocity, another game that offers action-packed racing.